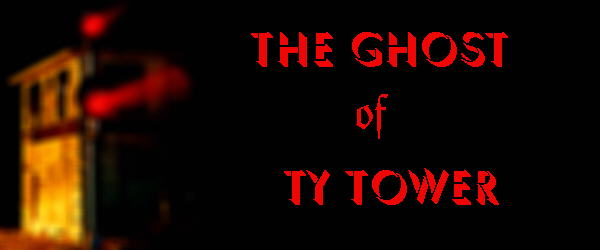 Normally change happens over much time. Change in procedures tend to evolve as do changes in landscape. Change came to Tuscola, IL. fairly rapidly. Many of you may remember my story about TY Tower for the last issue of Rail Online. That was two years ago. Well, the story is now complete. Let's go back and look at the realities of modern day railroading.
Tuscola is located about 27 miles South of Champaign off US 45 in the East Central part of the state. The tower was manned by IC operators 24 hours a day. It served the crossing of the IC double main, between Chicago and Memphis, the Union Pacific, former Missouri Pacific and, before that, the Chicago & Eastern Illinois, and the CSX, formerly the Baltimore & Ohio. It was a strange crossing configuration as there were actually five diamonds.
My first encounter with TY was back on August 12th, 1989. Amy, my two children and I were taking a series of short one and two day trips around the area as money was short back then. Tuscola was featured as a Trains Magazine Hot Spot so we planed a short trip to Connersville, IN to ride the Whitewater Valley and then on to Tuscola on the return leg.
We pulled up and parked next to the Union Pacific main just East of the tower. We grabbed the cameras and walked towards TY. Looking around, I saw a small stream which paralleled the IC main just West of the tower. The CSX and UP each had their own small wooden bridges to cross it. Right next to the UP tracks was a new cement bridge deck along with a pre-built turnout sitting on a pile of ballast. Little did I know then that this was the beginning of the end for TY.
Opposite the tower across the IC main was a pole with train orders on it. I remember those from my childhood, but never thought my son would ever see one today on a class one railroad. Seeing the paper and string I knew something must be coming. Sure enough, a few minutes later an IC freight came into view heading North. The engines were freshly painted back to IC black since the railroad dropped the "Gulf" from their name a short time before. As they hit the diamond, I saw the engineer's arm pop out and grab the orders. This sight has become most uncommon on railroads today.
Just then a local fellow came up and asked where we were from. After exchanging pleasantries, he told us that the first trick operator did not like people around the tower and to wait till 3:00pm when Bob came on. OK, I thought, it was almost 3:00 and we were less than 3 hours from home so I figured we could hang around for a few more hours.
It was a slow train day as two hours passed without any movements. (I'm sure many of you can relate to that.) All of a sudden, the operator came to the window and called down to us. He was inviting us all up for a look. Well, needless to say, I didn't need a second invitation, and we all climbed the 22 steps to the top.
Once inside we were face to face with Bob Moomaw. A big man with curly gray hair and a goatee to match. He wandered back to his chair and, almost on cue, started telling us how things worked. At the North end of the tower were the interlocking levers which he explained in detail to my then nine year old boy and his seven year old sister. Then, pointing to to a lever he asked my son Derek to squeeze the handle and pull the lever. As he tried, Bob pointed out a map above the desk which showed the layout of the tracks for all three railroads. Derek now had his sister helping to try and move the lever while Bob went on explaining the workings of the tower.
The tower, he said, was going to be closed in the next few years but he had no idea when the end would come. Bob claimed to hate his job, it made him feel penned up. As the kids were now breaking sweat trying to move the lever, Bob launched into a discussion of his many oil wells which he operated in the area. Then came his idea for a rail museum, but he had no backers for that yet. About that time a buzzer went off and Bob swung around and told the kids to hold up. No need as they still had not moved the lever an inch! "North bound", he said.
I walked over to one of the large open windows with a camera and began to kneel in front of of it. "Watch it", Bob yelled, don't get to close too the Window sill. I looked down and noticed the paint on the sill was cracked and peeled more than the rest of the tower. "Well, there's no bathroom up here and once it's dark... who's to know?" At this, Amy almost dropped the other camera as she was forming the mental picture of what Bob had just "shared"!
After the train passed, he continued with the oil wells and other money making ideas he had. In all fairness, Bob may have hated his job, but he was good at it, and a remarkable man to to talk to. We must have spent 2 hours up there talking about all kinds of things. When the two Amtrak trains came through, I realized it was after 7:00. "I live in Arcola just 8 miles down the road. Good place to stay there," he offered. We took his advice and headed for Arcola. Oh yes, the kids did finally get the lever to move along with every other lever up there. We went back the next morning, but the "mean" first trick guy was there so we took a few more shots and left.
Almost four years to the day, we were returning from a trip to New Orleans and stopped in Tuscola to see how TY had fared. The lay of the land had changed considerably. First and foremost, the tower was deserted. Some windows had been boarded up, but most were broken with glass strewn around the base, undoubtedly targets for kids with nothing better to do in a small town.
Walking up the stairs, I entered the tower with a rush of memories of the last time I was there. Almost everything was gone. The desk and phones which kept Bob hating his job, the map, copy machine and small refrigerator, all gone, but the levers, red, blue and white were still there, waiting for someone to squeeze their handles and move them once again. Looking down from the "don't get too close window", I saw just how much had changed since my last visit. The IC double main was now reduced to to a single with passing siding. The UP and CSX had uncomplicated their crossing with the IC considerably. Looking West, the CSX had now angled their track South and joined the UP just before the IC crossing. That cement deck, which I saw last time, was now holding the combined CSX / UP track as it now made a 90 degree crossing with the IC. The old CSX roadbed was still visible as it came towards TY, which made for this strange view of a local freight. All new signalling was put in by all three railroads and, just across from TY, stood two new modern metal signal huts. Someone had marked one of them with "TY II". Looking East shows the strange track configuration of the UP/CSX. The CSX comes in from the left and then splits off to the right after the bridge. The UP tracks come from the right and split left.
One bright spot was that the UP was running more trains on this line than last time. After finding a motel and eating, Amy, Derek and I went back to TY about 10:00pm. I really wanted to capture the tower and trains at night with combination of flash and time exposure. (Yes, Danielle was with us, but the motel had Nick on cable so that took care of that!) Needless to say, the feeling was eerie. The tower was dark and a thunderstorm was brewing off in the distance. I wanted to to shoot the tower with a time exposure, but I also wanted to have some type of light inside. Taking the light reading, I knew what I wanted, but now I needed to convince my "helpers" to cooperate. I asked Amy to climb the darkened stairway into the abandoned tower, (no flashlight of course) and told her to aim the flash at the floor and fire it when I yelled. This idea went over like a lead balloon. We went up together and, against her better judgement, she stayed up as I ran back to the camera setup and began a series of shots. Things were going well, when suddenly a scream from the tower made me think I was going to regret my idea. I ran back up the stairs, only to be told she "heard a noise". I joked that it was probably just field mice or maybe a rat. Next thing I knew, I was all alone in TY!
Once we regrouped outside, it was decided that I would run the flash and tell her when to fire the camera. We were lucky as four trains came by in the two hours we were there. The next day we left TY again.
My next visit was with Amy as we spent a long anniversary weekend at a bed and breakfast in the area. Not much had changed this time. More broken windows and rain greeted us. I was rewarded, however, with a CSX local with B&O GP40 #6603 in the consist. This unit was still wearing it's original blue paint with the capitol dome logo. Not too many of those running around in 1993! The rains came harder and we retreated back to our B&B, and that was that for TY this trip.
On May 4th, 1994, Amy and I once again headed down to Tuscola and TY. This time reality hit us square in the face. Two pickup trucks were backed up to the tower and a small gas powered generator was buzzing away at TY's base. Going up the stairs, I was met by men taking out the levers. They were dismantling the interlocking mechanics which will eventually find their way into a nearby museum. What a dirty job! I felt kind of funny as I was not dressed to help them. This was the second tower they had "gutted" so they had a good idea of what to expect. "Had to make it up as we went along last time", one of them told me. The tower was scheduled to be demolished during the following week. The men told us a story of why the town of Tuscola did not save it, however, I only heard one side of it so I won't go into detail here. The IC did offer the tower to Tuscola for $1.00 (yes a single dollar), and all the town had to do was move it across the tracks.
We have now come full circle. Spending the New Year,s holiday in the Tuscola area, the tower is gone. Both Derek and Danielle are now in their teens, Bob has retired from the railroad and no more mice to scare Amy. All are just memories now. The small cement slab is all that's left of TY. As Amy and I sit and wait for a train, a new figure comes into view. "Comanche Bill", as he is known, is sitting on the UP/CSX bridge finishing off a six pack of Red Dog. (Red Dog is an American beer) He eyes us suspiciously and then sees the cameras. Offering us a can of beer he tells us about his life. The man has been everywhere in the country, a modern day hobo. Maybe that's too nice a term, but I am trying to be "politicly correct". I wish we would have had more time to talk to him. What were his dreams and ambitions while growing up, what made him follow the track in life that he did? As he sat back down to finish off the last of his brews, a CSX local came through. The local passes and Bill is ready to move on. I knew what was coming next and already had a five spot in my hand. He thanked and blessed us, then turned and headed across the tracks to the bar. Looking North towards the crossing, I was feeling as cold as the day, but my memories were warm inside. We will be back here many more times in the future but it won't be the same, but then, maybe it's not supposed to be.