Who are these People?
Welcome to our homey home page. My name is Daniel and, with my wife Amy, we maintain the CWRR site as well as own Ribbon Rail Productions, a Web hosting and design company. We started the idea for the Cyberspace World Railroad in May of 1994. The inspiration came from The Virtual Railroad which was maintained by Dr. Yves Beaudoin. After seeing what he had done, as well as the few others at that time, we thought we could do something a little different. We wanted a place where people could go for news and views which could change weekly and monthly. That was back in 1994.
Today there are 1000's of railroad Websites. Many are updated daily and are very specific in their content. We will continue to keeps parts of the Cyberspace World Railroad current. The UTU News is always current as is the Google news. Much of what we offer is in the way of archived information, stories, reference material and trip reports. After 11 years, we don't update all the features as often as we would like, but we will try to get something new as often as possible.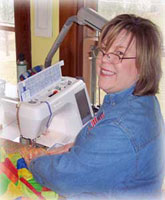 Amy is an avid quilter who sometimes gets unwanted help from Shy Guy. Amy and two of her sisters make a yearly outing to a major quilt show. As members of the American Quilter's Society (AQS), the last 2 years were spent at the Annual Quilt Show in Paducah, Kentucky. This year, they'll be going to the International Quilt Festival in Chicago, Illinois. Amy also teaches quarterly quilting classes at DuPage Sew & Vac in Lisle, Illinois, and is beginning to produce patterns for sale.
In addition to quilting, Amy enjoys gardening and will hopefully continue to hone her gardening skills.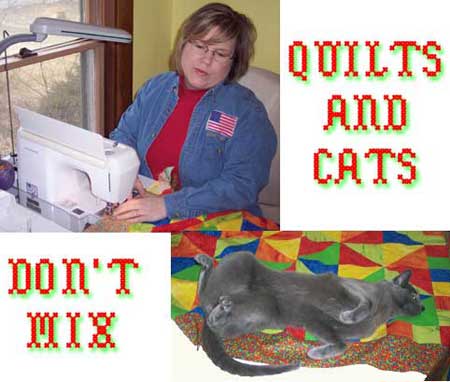 Her gardens currently include irises, hostas, roses and daylilies. Every spring brings something new for her to try, and she has decided that she likes low maintenance gardening (bulbs that don't winter over are not a favorite). Since we've only had the house since December of 2000, I think she's got a lot more experimenting to do.
This past May 12th, 2006, Amy graduated with honors from Roosevelt University.
Amy and her sister Terry have purchased a Gammill Longarm quilt machine and are starting their own quilting business, Sisters2Quilting in late summer 2006.



Amy and yours truly

Ribbon Rail Productions is my full time job. We are now hosting over 150 small to medium sized business as well as many non-profit organizations. Our clients are very diverse, from Chicago's Metrarail.com to Cable-Comm.com and railcar leasing agent RGCX on the business side to Neely's Bend Church of Christ and Museum Council of Lancaster County on the non-profit organization side. No matter how large or small, we can assist you in getting your group or business on the Web.

OK, when not pushing the Web business, I am also a model railroader. After years of apartment living, my Richmond, Danville & Southern has been started in the basement.

I also love photography and with my trusty Canon A1 continue to capture the beauty and power of railroads in action. I also finally bought a digital camera which I mainly use for Web images. I chose the Kodak DX 7630 because of its 6.2 MP resolution and, more importantly, the ability to use the camera in a completely manual mode like I am able to do with the A1. Also the video mode of 320x240 pixels at 24 fps with sound is a great feature. Yes, someday when I have "lots of money" I would love a Canon EOS-1Ds and lenses, but for now I am more than satisfied.
My son Derek and wife Stephanie now live in Union Grove, WI. Both are very active in model railroading as well as photography. They also enjoy collecting railroadiana, especially anything and everything Chicago Burlington & Quincy (CB&Q).

This past year Derek joined the The Kringle City Conspiracy as bass player. On May 16, 2006 they signed a recording contract with an indy label out of Milwaukee, WI.
| | | |
| --- | --- | --- |
| | Daughter Danielle and grandson Caleb live in Racine, WI. | |
| | |
| --- | --- |
| Wynterwynd Shy Guy | Shy Guy (WYNTERWYND SHY GUY) is our Russian Blue. I have always wanted a blue and found a great breeder in Annette Wilson of Wynterwynd Cattery. He is now approaching 14 years old and still acts like a kitten jumping over 6' to the tops of doors and cabinets! He is still a "head-butting" lover. Of course he loves to help quilt, help read the paper and even help design Websites. He can be very persuasive, and I often find myself typing with a cat on my lap. |
| | | |
| --- | --- | --- |
| Avalon 1994-2004 | After 10 years, we lost Avalon to cancer. She was a trooper in every sense of the word. She was a great companion to Shy Guy and did not take any crap from the dogs. A fun loving cat, she went through three operations in 6 years. Each time the vets thought they got all of the cancer, but it was not to be. She was a "snuggler" and her body gave off heat like a little furnace. She will be missed, but always remembered. | |
| | | |
| --- | --- | --- |
| Boobie ?-2006 | After spending over 5 wonderful years with us, Boobie passed away as suddenly as she come into our lives. Boobie was a gentle giant, friendly and happy to the end. Bubbles seems to understand, perhaps better then Amy and I do. | |
| | |
| --- | --- |
| Well, Bubbles appeared to be depressed (or was that me?), so we went back to Livingston County Humane Society and looked at Drake. Part Lab Mastiff mix, he has a powerful build, with big feet and drools. He and Bubbles got along right off, so later that afternoon Drake joined us at home. In fact, Drake is so comfortable with us, you'd think we'd have had him since he was a puppy! | |
| Bubbles | Drake |
All Contents and Images © 1994 - 2012 by Daniel S. Dawdy and Ribbon Rail Productions
No part of this site may be used or reproduced on other sites or in print without the permission of