The Greenbrier Limited
Text & Photos ©1996 by the Author
Redistribution without permission from the Author is forbidden.
(Photo selection is below article)
This is a report on a private car trip (dubbed "The Greenbrier Limited"), behind Amtrak's Cardinal, from Cincinnati to Clifton Forge and return on Sunday September 8th.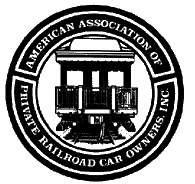 The trip was the idea of three private car owners: North Star Charters (John Wilson), Chapel Hill Corp (DeWitt Chapple, Jr.) and Rail Adventures (Tom & Nancy McOwen). It was the prototype for testing the feasibility of future public trips, onboard these cars, from Cincinnati to the Greenbrier and return. I should note that a certain degree of operational flexibility, on the part of Amtrak's Intercity Strategic Business Unit and CSX, made this trip possible. First, a word about the 3 cars.
The NORTH STAR was built by Pullman Standard in 1947 as 16 duplex roomette 4 double bedroom sleeper OBERLIN GLACIER for Great Northern's Empire Builder. In 1956, the car was rebuilt into 8 duplex roomette 2 double bedroom buffet lounge configuration for assignment to the Winnipeg Limited; it was renamed MANITOBA CLUB. It later served as BN business car ST. CROIX RIVER. Northern Rail Car rebuilt it to a modern open platform business car in 1986. It was acquired by the current owners in 1990.
The Vista Dome coach (INOH 800290) was built by Budd in 1954 for the Northern Pacific Railway's North Coast Limited. The current owners purchased the car in 1995. Although the car retains its Amtrak interior, the owners have some interesting redesign plans for the future.
CHAPEL HILL was built by American Car and Foundry in 1922 as private car HUSSAR for the personal use of E. F. Hutton and Marjorie Merriweather Post. C&O acquired the car for office car service in 1937 and sold it to the current owner in 1971.
After a lengthy drive from home, I arrived at the Indiana & Ohio railroad's yard in the Norwood section of Cincinnati about 2000 on Saturday night. I find CHAPEL HILL, the dome coach, and The NORTH STAR parked in front of the engine house. Owners and crew were busy loading supplies and preparing for tomorrow's trip. After saying hello to DeWitt Chapple, his other guests and crew, I stow my gear in stateroom C. Dinner will be served in about an hour, so I have time to explore.
I find a number of lightweight passenger cars stored on the other side of the engine house. These are former MILW 58 Super Dome lounge car, former KCS 14 roomette 4 double bedroom sleeper STUART KNOTT, a former Amtrak buffet diner, former B&O coach LA PAZ, two former New Georgia RR coaches, and a former Amtrak shorty baggage car converted to a power car by addition of an APU from a Budd SPV-2000 unit. These cars are used for excursions on the Indiana & Ohio. STUART KNOTT looks great in her original KCS colors. I enjoy a tour of the car conducted by her owner. Although he has removed the last 4 roomettes on the blind end, the interior is otherwise in very original condition. The Super Dome also looks great in her original Milwaukee Road colors. It is technically a lightweight car, but The Milwaukee Road Super Domes weighed in at approximately 208000 pounds - more than any other lightweight passenger cars.
A tasty chicken dinner is served onboard CHAPEL HILL sometime after 2100. A group of us are up past midnight, talking in the lounge. Sometime around 0400, I feel the I&O switcher couple to us and we begin our journey of about 10 miles to Cincinnati Union Terminal. The I&O has switching rights into CUT; this saves the extra cost and operational problems of dealing with CSX when moving to/from the Cardinal at CUT. I'm up around 0515. We are scheduled to depart Cincinnati at 0555 on train 50. CHAPEL HILL's chief mechanic advises that the Cardinal is about 45 minutes late. By 0600, I'm sitting by myself in the front seat of the dome, savoring a cup of fresh coffee in the pre-dawn peace and quiet. Sometime around 0615, the Cardinal passes us on another track located a few hundred feet to our right. Soon the stop signal clears, we pass thru the interlocking and follow 50 into CUT. CSX's large Queensgate Yard is all around us. A few more miles and we arrive at CUT as night gives way to the first light of day. The I&O geep gently shoves us against the Cardinal's rear car and the hitch is made. We depart about 0700, approximately one hour late. Our consist is a pair of F40s, baggage car, Hilevel coach-dorm, 2 Superliner coaches, Superliner Sightseer cafe-lounge, Superliner sleeper, Superliner transition sleeper, The NORTH STAR, dome coach, and CHAPEL HILL.
I'm impressed with the view and the long climb to the bridge over the Ohio River. Soon we are in the Kentucky suburbs and rolling along. A number of passengers boarded at Cincinnati; others will be boarding at stations between here and Huntington. Breakfast is served. Scrambled eggs, bacon, grits with cheddar cheese, fresh fruit salad and baked goods highlight a good meal served in the dining rooms of both business cars. Bloody Marys and other morning restoratives are available for those who need to jump-start their day. After breakfast (and thru most of the remainder of the day) I alternate between CHAPEL HILL's open platform & observation lounge and the dome. We pass a small wooden structure (signal relay box?) of interesting design alongside the tracks; someone notes that it is the last of its kind on the former C&O mainline. We stop in a CSX yard (Russell KY) to fuel the locomotives and water the Amtrak cars. The last of our passengers board at Huntington. The C. P. Huntington Chapter NRHS has assisted in publicizing this public trip. It is a warm and pleasant day - a great day to be out touring the countryside by rail. Lunch is served buffet style in the dining room. The menu offers a selection of triple decker sandwiches, salads and fruit. Our surprise is freshly baked chocolate chip cookies, thanks to Nancy McOwen. Now we are rolling thru the scenic New River Gorge. The river looks swollen by rain from the recent hurricane. I see folks, in canoes and rafts, enjoying the river. As we pass undeneath the famous bridge high up above the New River, I look up at it thru the dome and wonder about those people who bungee jump or parachute from it one day each year.
One of our passengers is a veteran railroad manager. He mentions that he worked in South America as a consultant and found 7 man operating crews on freight trains. His stories are educational and entertaining. It appears that only two of our passengers can be classified as serious railfans. These two individuals, equipped with scanners, spend the entire journey (minus meal breaks) on the observation platform. They appear to know every mile of the former C&O mainline & much of past and present operations. They appear to be enjoying themselves immensely, intensely focused on their "inspection" of the railroad.
We arrive at White Sulphur Springs about an hour late. Most of the passengers detrain to spend the next few hours at the Greenbrier. The original plan was for train 50 to backup and set out the 3 private cars on the station's other run-through track; the cars would be parked there until train 51 arrived and then backed down against them later in the afternoon. However, that plan was cancelled by CSX and Amtrak for a number of reasons. We head east with owners, crew and a few friends onboard. After we arrive in Clifton Forge, a pair of CSX units cut us off the rear of the Cardinal. We ask the switch crew to allow us to water the 3 cars and the trainmaster agrees. They spot us 3 times, by the single potable water spigot with a short hose, and we top off our tanks. Then they shunt us over to a siding on the east side of the station where we will remain until 51 arrives. We are told that 51 is over an hour late and is operating with the Capitol Limited's equipment since the route of the Capitol Limited is blocked by flood waters at Harpers Ferry.
I find about a half-dozen passengers cars, in various states of disrepair, stored on a siding in the east end of the yard. I have the time to take a closer look and some photos. One of the cars is one of the tree dome observation lounge cars built by Budd in 1948 for C&O's Chessie. There is a lightweight sleeper of C&O ancestry. The rest of the group looks like lightweight coaches with some troop sleepers and a heavyweight baggage car. It appears none have carried a passenger in many years. As I complete this reconnaissance mission, train 51 rounds the curve and approaches the station. A pair of F40s is pulling 5 mail cars, a baggage, a Hilevel coach dorm, 2 Superliner coaches, Superliner Sightseer cafe-lounge, Superliner diner, 3 Superliner sleepers, a Superliner transition sleeper and private car SILVER SOLARIUM. The private car is a dome-sleeper-observation of California Zephyr ancestry. The pair of CSX engines couples up to us and gently shoves us against SILVER SOLARIUM. We have not been wyed at Clifton Forge, so The NORTH STAR will carry the markers for our trip back to Cincinnati.
Before dipping behind the mountains, the last rays of the setting sun illuminate the silver sides of the long train (2 engines and 19 cars) as it snakes around many curves. It is an impressive sight to view from the dome. The name "Appalachian Zephyr" comes to mind to describe this long domeliner consist. We reach White Sulphur Springs in about an hour and board our passengers. They inform us that they formed a pool to bet on our arrival time. The lucky winner pocketed about $55. I recall Amtrak's "A Safe Team, On Time" slogan; we may not be on time, but at least we are operating safely! There are three seatings for dinner tonight. CHAPEL HILL's final seating is for DeWitt Chapple and guests. By the time we sit down to dinner, it must be about 2030. The menu features a garden salad, tasty beef stew and dessert of white seedless grapes in a special cream sauce. Wine is served with the meal. The candles are lit, highlighting a full setting of CN china and silver atop a white linen tablecloth. It is very elegant. After a few minutes of fresh air on CHAPEL HILL's platform (which is now facing forward against SILVER SOLARIUM's red neon California Zephyr tailsign), I retire to stateroom C for a little after dinner nap. I'm up before we reach Huntington in order to get another look at the C. P. Huntington Chapter NRHS passenger cars stored near the station. I spend some time alone in the dome watching our midnight passage across northern Kentucky. I call it a day sometime after midnight when we stop to fuel and water the consist at the CSX yard. Later that night I hear us rumbling across a bridge. I raise the window shade and see we are crossing the Ohio River back into Cincinnati. My watch says 0415. I estimate our final arrival at CUT as three and one-half hours late against the 0055 scheduled arrival. I feel sorry for any of our passengers who have to get up and go to work the next morning. The next time I awake it is about 0900 Monday morning and we are once again parked in front of the I&O shop in Norwood.
We discuss the trip over breakfast on CHAPEL HILL. Future options are considered. These include going east on Friday and returning on Sunday, with passengers spending two nights at the Greenbrier. The addition of a sleeper would allow passengers to board & detrain at I&O's Norwood Yard so they would not have to depart/arrive CUT at odd hours. There are tradeoffs - service versus cost, etc. I say farewell to all and head for home.
This enjoyable journey covered about 800 miles on Amtrak's Cardinal. It included three tasty meals served in an elegant atmosphere, beverage service, good conversation with nice people who enjoy rail travel, and lots of Appalachian scenery. Myself and several other friends of the car owners were fortunate to have private room accomodations. If they do this trip again, I recommend you consider it.
Selected Photos From The Greenbrier Limited Trip
Photos ©1996 by the Author
Redistribution without permission from the Author is forbidden.

Private cars CHAPEL HILL and The NORTH STAR bracket dome coach 800290 parked at the Indiana & Ohio's Norwood yard. I&O locomotive 54 is visible at the extreme right of this photo.

Private car CHAPEL HILL parked outside the Indiana & Ohio's Norwood yard engine house. The car was built by American Car and Foundry in 1922 as private car HUSSAR for the personal use of E.F. Hutton and Marjorie Merriweather Post; it later served as a C&O business car.

Former Milwaukee Road Super Dome lounge 58 stored in the Indiana & Ohio's Norwood yard.

A bouquet of fresh flowers graces the dining room table onboard CHAPEL HILL. The car has a full set of railroad china and silver.

The stairway leading to the vista-dome of car 800290. The car's interior retains its Amtrak era decor for the present time, as the owner has focused his attention on mechanical refurbishing before turning to cosmetics.

The dining area of The NORTH STAR.

The observation lounge of The NORTH STAR, looking towards the open platform at the rear of the car.

The afternoon sunlight illuminates the Budd stainless steel of vista-dome coach 800290 while the cars are being watered at Clifton Forge. The car was built by Budd in 1954 for Northern Pacific's North Coast Limited.

A private car owner, a crew member and a guest converse while The NORTH STAR satisfies her thirst at Clifton Forge. Sharp-eyed observers will note the duplex roomette window pattern over the heads of the trio; this design detail reflects the fact that the car was built by Pullman Standard in 1947 as 16 duplex roomette 4 double bedroom sleeper OBERLIN GLACIER for Great Northern's Empire Builder. The car was later named MANITOBA CLUB and then ST. CROIX RIVER.

A cut of cars, owned by the Chesapeake & Ohio Historical Society, stored in the yard east of the Clifton Forge VA station. This dome coach lounge observation car was built by Budd in 1948 as C&O 1875 for the Chessie streamliner. It is now owned by the C&O Historical Society.

This 10 roomette 6 double bedroom sleeper was built by Pullman Standard in 1950 for C&O as CITY OF ATHENS. It was renamed CITY OF PETOSKEY in 1951. It is now owned by the C&O Historical Society.

The westbound Cardinal, with privately owned California Zephyr dome-sleeper-lounge-observation SILVER SOLARIUM carrying the markers, comes to a stop alongside The NORTH STAR at Clifton Forge. A CSX locomotive will soon couple to The NORTH STAR and switch the cut of 3 private cars onto the rear of the Cardinal, behind SILVER SOLARIUM'S red neon California Zephyr tailsign, for the trip back to Cincinnati.

The westbound Cardinal, now trailing 4 private cars, calls at White Sulphur Springs WV. The majority of private car passengers boarded here after spending a few hours at the famous Greenbrier resort hotel. One of several CSX business cars parked at the station is visible in the photo.