A Primer on The Motor Car Hobby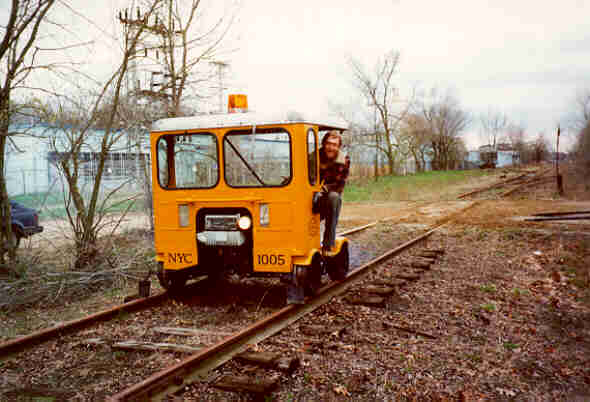 Do you remember those railroad motor cars you used to see in the fifties and sixties on virtually every line in the U.S. and Canada ? Those little yellow or orange boxes with the characteristic putt-putt sound of a two-stroke engine, sometimes towing a trailer or two loaded with ties and spikes. Did you ever wonder what happened to them ? Not surprisingly, the overwhelming majority were scrapped, but a few thousand of these vehicles are still around today in running condition and in regular use. The North American Railcar Owners Association represents a group of about 1,500 people who own motor cars, otherwise known as railcars, speeders, jiggers or putt-putts. This group organizes 1 to 5 day rides on different railroads, with a ride being as short as 20 miles or as long as 1,000 miles. It also sets rules, makes liability insurance available and publishes a bimonthly magazine that includes reports of rides, historical articles, technical tips and facilitates the sale of railcars and railcar parts. My personal involvement with this group began in November 1993, when I purchased an ex-New York Central Fairmont M-19E railcar and restored it to running order (see above at Plainwell, Michigan in May 1995).

History of Private Railcar Ownership in the U.S.
The idea of private railcar ownership was born during the 1950's in the south of the State of Michigan, where the New York Central (NYC) still had a network of lightly used branch lines connecting the small farming and manufacturing towns. A group of Toledo railfans arranged to lease a 6.5 mile branch that bypassed the city of Hillsdale, nicknamed the Bankers Cut-Off, which was not needed by the NYC. The cost of the lease was $100 per year. The group made the line passable, and for 17 years used the line for their ramblings, occasionally riding nearby branch lines too. Then Penn Central, the successor to the NYC, chose not to renew the lease and tore up the track.
Around 1970, a group in New Jersey started riding their railcars on abandoned track and little used branch lines in the Northeast of the U.S. At times, they would clear lines for the railroads in order to use them. After many of these lines were torn up in the late 70's and early 80's, this group decided to formally organize as the North American Railcar Operators Association (NARCOA), with the hopes of finding a railroad that would let them ride the rails on a regular basis. One of the first railroads to allow this was the Delaware and Ulster Railroad in Arkville, New York. In exchange for such running, NARCOA helped clear the line of trees and trash in preparation for a tourist operation. During this period, private railcar ownership grew rapidly, as American railroads were liquidating large numbers of railcars in favor of Hy-Rail vehicles, selling them for $25-100 to anyone who would haul them away. With few places to ride, some owners began to use them illegally on little used tracks.
In 1985, the Southern Michigan Railroad, a tourist railroad that had purchased an ex-NYC Michigan branch line between Clinton and Lenawee Junction, invited NARCOA members to join them for the first National Motorcar Convention. Twenty-two motorcars, two handcars, a velocipede and 75 people participated in the activities, which included several rides over the 14 mile railroad, a banquet and a night photography session. This convention was a turning point for the hobby. Membership increased and a second group was formed, the Motor Car Collectors of America (MCCA), based in Wever, Iowa. They used a nearby line owned by the Keokuk Junction Railroad for riding. However, the demand to operate motorcars on other railroads was to remain unfulfilled, as only the three railroads mentioned above would permit group rides on a regular basis. The breakthrough came in 1988 when a trip was organized over a 184 mile ex-Milwaukee Road line from Channing to Ontonagon in Michigan's remote western upper peninsula. Over 35 cars filled to capacity with coolers, suitcases and tents attended. There were no accidents or injuries and the two-day ride set a precedent, demonstrating the safety and value of motorcar trips over freight railroads. It also showed that motorcar enthusiasts could provide well maintained cars and conduct themselves responsibly when running on active tracks. After this success, freight railroads in South Dakota, Florida, Minnesota and Canada began allowing motorcar operation on their tracks.
Out in the West, the first organized event was a time trial on the track of the Feather River Railroad Museum, California, in the early 1980's. This brought together a number of motorcar enthusiasts and lead to organized excursions in Oregon, California and Nevada. Eventually, this group became the Motorcar Operators West (MOW) with 170 members. The biggest factors that made NARCOA the leading national organization and brought all the above groups together in the 1990's were safety and insurance. Liability insurance was thought to be a prerequisite to further expansion and the national availability of a $5 million policy led to rides on over 30 other railroads, including Class 1's CSX, Canadian National and Burlington Northern. A rule book acceptable to the Federal Railroad Administration (FRA) was written, approved and distributed. All rules must be followed and liability insurance is mandatory on every organized ride. The NARCOA bi-monthly magazine, called "The Setoff", contains details of all upcoming rides, each of which may attract anywhere from a handful to 70 motorcars. "Bootleg" running (use of any track without the owner's proper permission) is strictly forbidden to NARCOA members.

U.S Manufacturers of Railcars
There have been a number of manufacturers that supplied velocipedes or rail cars to American Railroads. The first was the Sheffield Motor Company, incorporated in 1878 by George Sheffield, who saw the potential in selling velocipedes with flanged wheels to the railroad companies. He did his experimenting on the Michigan Central Railroad in the West Michigan area at night and without authorization from the railroad. The Kalamazoo Velocipede and Motor Car Company went into production in the early 1880's and lasted until 1968, when it was bought by Tamper Inc. of Columbia, South Carolina and the factory closed down. The Fairmont Gas Engine and Railway Motor Car Co. began in 1911 and by 1949 was offering 19 models of motorcars to customers, most being available in 11 different gauges from 23" to 66". Demand was very strong for half a century, but by the 1970's, sales were plummeting, due to the rapidly shrinking railroad network and a widespread switch to Hy-rail vehicles. The last of a total of nearly 73,000 Fairmont motor cars was manufactured in 1991. Other companies of historical note included Adams, Buda, Casey Jones, Fairbanks-Morse, NorthWestern and the sole Canadian company, Woodings. The only one of these manufacturers still in business today is Fairmont, who swallowed Tamper Inc. in 1991 to become Fairmont-Tamper. This name is familiar across the world, as they sell a wide range of track maintenance equipment. The majority of railcars privately operated today were built by Fairmont.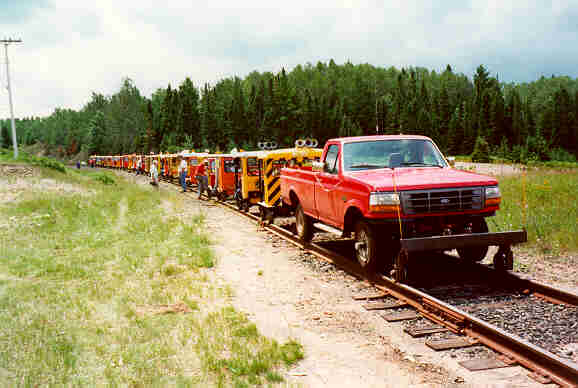 Lunch break at Humboldt, Michigan, on the 1994 Lake Superior
and Ishpeming Railroad ride, attended by 27 motorcars.

Mechanical Overview
The earliest 3 wheel velocipedes and 4 wheel track cars were either powered by hand cranking, a pumping action or pedaling, the motion being transmitted to the wheels by chains and gears. The first cars that used the internal combustion engine for power did so via a direct drive, where the engine was permanently connected to the drive axle. This meant that they had to be pushed to start the engine and could not idle when stationary. Still, that was a distinct improvement over cranking and pumping all day ! The direct drive was eventually replaced by the most common method of power transmission, the drive belt. Earliest belts were made of leather but this material was quickly superseded by heavy duty fabric. According to Fairmont literature, a properly installed and used drive belt should last 40,000 miles. The rugged one-cylinder two-stroke Fairmont engines used from 1911 onwards were reversible, in that you could set the position of spark ignition and then crank the engine in the required direction of travel. The name "putt-putt" for a motorcar derives from the characteristic sound of these unmuffled two-stroke engines. Power to the spark plug was supplied by a vibrating coil enclosed in a wooden box, commonly referred to as a "buzz box". This type of coil was also used in early cars such as the Model T Ford. It was connected to a timer mechanism on the end of the engine shaft, and as the shaft turned, the coil discharged at a set point for a set period once per revolution. Batteries were initially 6V dry cells of limited capacity, which were replaced by 6V and then 12V car type lead-acid batteries.
Starting in the 1950's, Fairmont began offering a more modern two cylinder, four-stroke engine with a clutch and mechanical transmission to get power to the wheels. However, the two-stroke engines and belt drives were still available as an option on new cars until the end. In fact, four of these venerable engines were assembled by Fairmont and shipped to a Turkish railroad in 1994. The maximum speed of most motorcars is between 20 to 40 mph. Brakes are generally small cast iron shoes, one for each wheel. For cars with solid rubber tires on the wheels, flange brakes are used.

Riding the Burlington Northern in Illinois
On July 9, 1995, I took part in a typical ride with my restored Fairmont M-19E. This outing was organized by the Illinois Chapter of NARCOA on the Burlington Northern (BN) in Western Illinois. The ride started at Zearing on the double track main line west of Chicago in typical Illinois summer weather - a cloudless day with little wind and an air temperature over 90 degrees F. A branch line runs a distance of 25 miles from Zearing to the city of LaSalle, on the Illinois River. The mandatory inspection before departure of each of the six motorcars, all Fairmont models, and one hy-rail vehicle included a check of wheel thickness, tow bar, first aid kit and proof of liability insurance. Additionally, hard hats and boots were required for all riders on that day. A safety meeting was held and our BN host, who would lead the way in his Hy-Rail pickup truck, was introduced. Being a Sunday, there was no other traffic on the branch and thus our schedule could be very flexible. Before we departed from the Zearing yard, a Chicago bound Southern Pacific intermodal train could be seen approaching through the heat haze. Cameras were held at the ready and it was an awesome sight for a Michigan railfan to see this 100 car double stack intermodal train sweeping past us at line speed.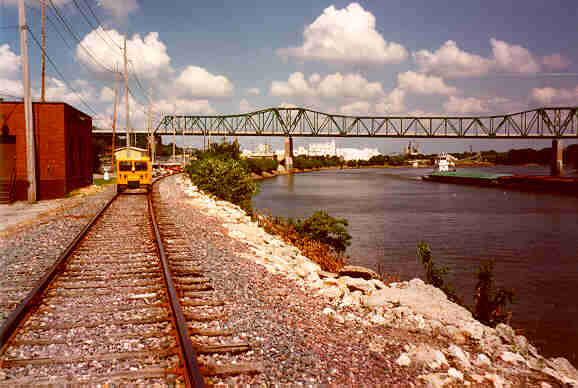 Next to the Illinois River on the Burlington Northern
railroad at LaSalle, Illinois, on July 9, 1995
The first 10 miles of the ride were through flat plains, with corn growing to the horizon. The only railroad customers along this stretch were agricultural, with the occasional grain car set out on a siding. The condition of the well-ballasted track was excellent and car speed was between 10 to 15 miles per hour. We passed through the town of Ladd (population 400), which in it's heyday as a coal mining center during the early years of the century, was served by no less than 5 different railroad companies. Shortly after Ladd, the line began descending through wooded country towards the Illinois River, a major commercial waterway that flows west across the state into the Mississippi. A CSX line also runs in the river valley and the convoy crossed it after we had obtained permission to do so from the CSX dispatcher in distant Jacksonville, Florida. The next 3 miles were along the bank high above the river, a stretch where the 1993 Mid-West flooding had almost washed the track away. Much rock had been dumped here since and the line reballasted, although a 5 mph speed limit was still posted. At the 24 mile mark we rode by a Huntsman Chemical facility, which is the reason for the line's existence. Plastic pellets made here are shipped to plastic component manufacturers throughout the Mid-West and a total of 75 hopper cars, each capable of carrying 70,000 lbs of pellets, were in a small yard awaiting use. Shortly after this, the line ended within sight of an ex-Rock Island passenger depot next to the CSX track. This substantial stone and brick structure saw its last passengers in 1972 and is now used as a garden center. It remains in excellent condition. In contrast, the accompanying freight depot was barely visible under an almost complete curtain of ivy.
The railcars were turned by stopping on a road crossing, pulling out two long handles at the rear of each car, then using this leverage to lift the rear wheels off the ground and pivot 180 degrees on the front wheels. Fortunately the BN Hy-Rail truck had brought a good supply of chilled water with which to fight the heat, which was oppressive when we were not on the move. Upon our return to Zearing, we witnessed the daily AMTRAK Chicago-San Francisco train, the "San Francisco Zephyr", headed west at 90 mph with its bi-level Superliner coaches pulled by three F40's. No mechanical breakdowns of the railcars occurred and everyone was most impressed with the ride, including our BN host, who expressed a willingness to repeat the excursion next year.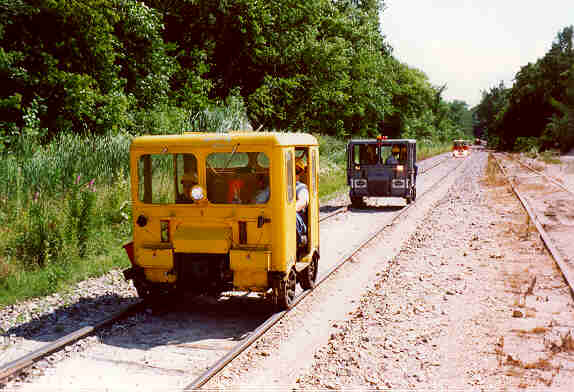 Climbing out of the Illinois River valley on the
1995 Zearing to LaSalle ride

Other Organized Rides
1995 - Of the approximately 60 organized excursions in 1995, the longest ones included an 360 mile jaunt in Ontario from Timmons to Hearst, mostly on the ex-CN east-west line now owned by the Ontario Northland Railroad, and a record 1,132 mile ride from Prince George to Fort Nelson on the British Columbia Railroad (BC Rail) in Western Canada. A 10th year anniversary ride at the Southern Michigan Railroad attracted 13 motorcars. Other notable rides were on the Florida Central Railroad, Iowa Interstate Railroad, Iowa Northern Railroad, Wheeling and Lake Erie Railroad, Lake Superior and Ishpeming Railroad, NEBKOTA (the former Chicago and NorthWestern "Cowboy Line"), Nevada Northern Railroad and the McCloud Railroad.
1996 - There were two big excursions in 1996. Firstly, NARCOA members rode on CN rails up to the Great Slave Lake in the Northwestern Territories of Canada, specifically from Peace River to Hay River. Hay River is the furthest north that the contiguous North American rail system reaches. From there, a flight to the northern edge of the continent let riders take a dip in the Arctic Ocean and see the huge herds of caribou that still inhabit the far north of Canada and Alaska. Secondly, a one thousand mile trip on the Chihuahua Pacific Railroad in Mexico, through the Copper Canyon in the Sierra Madre mountains was successfully completed twice, once in March and again in October. Other 1996 trips included the Algoma Central, Central Montana Railroad, Central Oregon and Pacific, Alberta Prairie, Dakota Southern, Wheeling and Lake Erie, WC, LS&I and many more.
1997 - The big excursions so far are BC Rail, Algoma Central, Wisconcin and Southern, a different part of WC, Idaho Northern and Pacific. I counted 19 trips advertised SO FAR this year.

Cost of the Hobby
So how much does it cost to ride the rails ? My unrestored 4 person Fairmont M-19E motorcar of 1950's vintage cost $400 with another $600 spent in restoration. The latter sum included the cost of a new safety glass windscreen, brakes, drive belt, main axle pulley, coil, seats, paint and some other electrical parts. The annual costs are $160-175 for insurance and $20 NARCOA subscription, then there are individual ride fees, usually between $10 to $100 for a one-day ride. Most of the ride fees go to the host railroad. The cost of the gasoline for the railcar is minimal. For those with no time, talent or energy for a restoration project, a pristine Fairmont car from the 50's or 60's now fetches between $1500-$2500, but for rare models or manufacturers, add on up to $2000 more. For a modern car built in the 70's and 80's with a fiberglass cab, mechanical transmission and electric start, $1000 is generally the starting price for an unrestored example. Occasionally some of the early Hy-Rail trucks are available. Fortunately, many common parts are still available for Fairmont cars from the manufacturer. So for less than $2,000 initial investment and several hundred dollars every year, you really can ride the rails in your own rail vehicle.

Conclusion
In the June 1997 issue of TRAINS magazine, there is an article on the various "engineer-for-an-hour" programs springing up. The sensation of shuffling a steam locomotive back and forth along a 1 mile stretch of track at 10mph is described as "the ultimate fantasy". I would strongly disagree - the sensation of riding your own railroad vehicle on railroads across the U.S., Canada and Mexico beats that easily, especially in scenic areas such as the northwoods, the Pacific Northwest and the Appalachians. For the ambitious few in NARCOA, there are 1,000 mile marathons and for the rest of us, a Sunday jaunt along fifty to a hundred miles of nearby track. For more information on NARCOA, visit their web site at http://www.calpoly.edu/~rzammit/narcoa/